Slackjack® Shrinkage Compensation Device
The Earthbound System now features the revolutionary Slackjack®
shrinkage compensating fastener.
Feature and Benefits:
●
Installs faster than other shrinkage devices.
●
All component types successfully completed a 1,000 Hour Continuous Salt Spray test with every device still able to actuate!
●
Testing for load values and corrosion resistance were all performed by ICC accredited test labs.
●
Self-aligning swivel feature for rods out of plumb.
●
Each Slackjack® device can be reset in the field without tools.
●
No lag screws to buy separately and install.
●
No set screw to forget to remove.
●
No baling wire to remove and tie strap to cut.
●
Activation clip is specially designed to not be forgotten.
●
Each Slackjack® provides constant tension to the rod.
●
Color coded for threaded rod size and travel distance.
●
Available in 1", 2" and 3" travel.
●
Canada Limit States capacities up to 47,900 lbs factored.
●
Design for Threaded rod sizes from 1/2" to 1-1/2".
SLACKJACK ® DEVICE INSTALLATION
| | | | |
| --- | --- | --- | --- |
| SLIDE | SPIN | PULL | FINISH! |
| | | | |
| Slide SlackJack® on top of color bearing plate. | Spin nut down hand tight. | Pull clip away from device. | Place clip on the rod above the device to show activation. |
SLACKJACK ® DEVICE COLOR CODE IDENTIFICATION AND SELECTION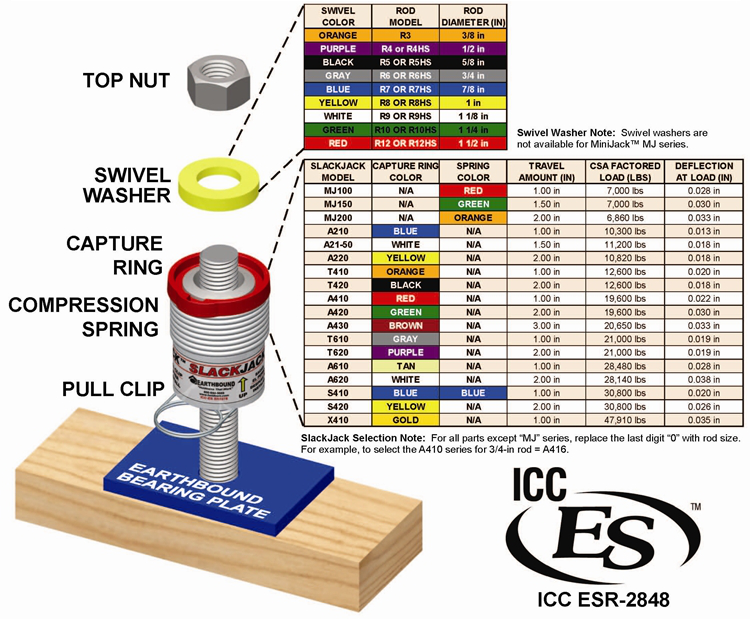 ©

Earthbound Corp., Domestic & Foreign: Patents & Patents Pending

US Patents: 7,762,030 7,665,258 7,617,642 7,340,867 7,159,366 6,951,078 6,688,058 6,494,654 6,161,350 8,186,924 8,136,318 8,112,955